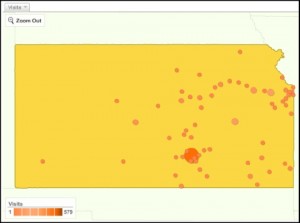 I've been using the analytical tool, Google Analytics, for some time now. Prior to this point, I had used statistical programs provided by web hosting companies.
The Google application goes well beyond anything I've used in the past. The image at left illustrates just one of scores of reports available to the site administrator. Other statistical applications may show the IPs, but Google will break the information down even further, showing demographic information right down to the city level, including time on site and frequency levels. This is just one example of scores of reports available, and all can be downloaded in distributable PDF format.
Setting up a Google Analytics system is very straightforward. The administrator needs to first set-up an account at the link provided above. Google will provide some code that needs to be added to those pages you wish to track. After that, reload the pages to the web server.
Reports are accurate to within 24 hours. I use them for advertising purposes, targeted mailing programs, and search engine optimization (SEO) fine-tuning.